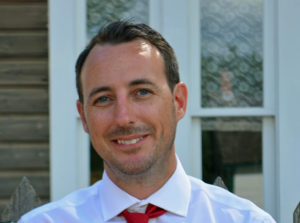 Travis E. Baker, PhD
Assistant Professor
Center for Molecular and Behavioral Neuroscience
Rutgers University
Email: travis.e.baker@rutgers.edu
Room: 307D
Tel: 973-353-35485
Research Interests: The overarching goal of Dr. Baker's research program is to understand the neurobiological mechanisms that underlie cognitive control and memory, how to empirically identify and characterize these functions in the brain, and how these functions are disrupted in clinical populations (e.g. addictions, ADHD, affective disorders, neurodegenerative disorders). He has adopted a variety of empirical approaches to investigate these functions, including genetics, electroencephalography, event-related brain potentials, functional magnetic resonance imaging, diffusion magnetic resonance imaging, and transcranial magnetic stimulation. Ultimately, Dr. Baker hopes that his research will converge to help improve psychiatric care.
Background: Born in Canada, Travis Baker earned his PhD in 2012 from the University of Victoria in the Brain and Cognitive Science program under the supervision of Dr. Clay Holroyd. He also holds a Masters of Science degree in Experimental Neuropsychology (University of Victoria) and received a B.A. (with distinction: Psychology) from Vancouver Island University. Prior to joining Rutgers University faculty, he worked as a post-doctoral fellow at the Montreal Neurological Institute in the Department of Neurology and Neurosurgery under the supervision of Dr. Alain Dagher, and at CHE Sainte-Justine Children's Hospital Research Center under the supervision of Dr. Patricia Conrod.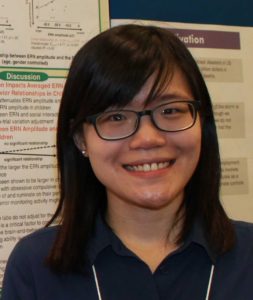 Name: Mei-heng Lin, PhD
Email: meiheng.lin@rutgers.edu
Affiliation: Center for Molecular and Behavioral Neuroscience, Rutgers University
Room: 206
Tel.: 973-353-3509
Research interests:  My research interest focuses on understanding the neural processes underlying cognitive functions (e.g. response monitoring, attention, and executive control) and how they influence goal-directed behaviors in neurotypical individuals and individuals with neurological disorders. I received my bachelor's degree in Occupational Therapy in Taiwan, and joined the event-related potentials (ERPs) lab for my master's degree. I completed my doctoral degree in the Occupation and Rehabilitation Science program working with Dr. Patricia Davies and Dr. Bill Gavin in the Brainwaves Research Lab at Colorado State University.
Selected Publications:
Lin, M. H., Liran, O., Bauer, N., & Baker, T. E. (2022). Scalp recorded theta activity is modulated by reward, direction, and speed during virtual navigation in freely moving humans. Sci Rep, 12(1), 2041. doi:10.1038/s41598-022-05955-9
Lin, M. H., Davies, P. L., Taylor, B. K., Prince, M. A., & Gavin, W. J. (2021). Modeling electrophysiological measures of decision-making and performance monitoring in neurotypical children engaging in a speeded flanker task. Psychophysiology, e13972. doi:10.1111/psyp.13972
Name: Malte Güth, M.Sc.
Email: malte.r.gueth@rutgers.edu
Affiliation: Behavioral and Neural Sciences Program, Rutgers University
Room: 206
Tel.: 973-353-3509
Research interests: In my PhD I'm aiming to (1) map the neural circuitry and oscillatory signatures of spatial navigation using simultaneous MEG, EEG-fMRI, DWI, and multimodal data fusion. (2) Next, I'm developing a novel closed-loop EEG-TMS system for the use in humans to test the functional role of medial temporal theta oscillations for goal-directed spatial navigation (click here for latest project repo).
Background: B.Sc. and M.Sc. in Psychology at Philipps Universität Marburg (Germany)
Selected Publications:
Garcia Alanis, J. A., Gueth, M. R., & Peper, M. (in prep). Fronto-parietal oscillations reflect distinct proactive and reactive cognitive control mechanisms in the human brain
Gueth, M. R., Garcia Alanis, J. A., & Peper, M. (in prep). Keep calm and carry on – attenuated electrocortical correlates of cognitive control during emotion regulation in subjects with psychopathic traits.
Code, open lab notebooks, jupyter notebooks
Popular science books: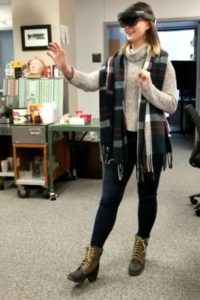 Name: Galit Karpov, B.Sc.
Email: galit.karpov@rutgers.edu
Affiliation: Behavioral and Neural Sciences Program, Rutgers University
Room: 206
Tel.: 973-353-3509
Research Interests: To use an RDoC approach to better understand threat processing and its neural signatures. More specifically, investigating how childhood trauma impacts threat circuits, as measured using various techniques including EEG, fMRI, and GSR.
Name: Jaleesa Stringfellow-James, B.A.
Email: jss388@newark.rutgers.edu
Affiliation: Behavioral and Neural Science Program, Rutgers University.
Room: 206
Tel.: 973-353-3509
Research Interest: Exploration of Affective and Value-based decision making, Reward processing and memory in substance use and addictive behaviors, computational modeling, translational research, clinical applications.
Background: B.A. in Psychology & English, Summa Cum Laude, from Rutgers University, Newark, NJ. (click here for personal website)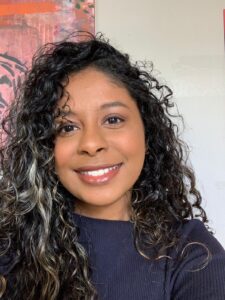 Name: Nicole Lalta
Affiliation: Center for Molecular and Behavioral Neuroscience, Rutgers University
Research Interests: Deep learning, ADHD, and schizophrenia
Name: Mr. Roboto
Affiliation: research assistant in Dr. Baker's lab.
Research Interests: Holding things precisely. I like to use MRI images to set brain stimulation targets, and then continuously track and adapt to the movements of the cranium in real-time. My goal is to guarantee a precise mm coil to target position for Dr. Baker's experiments. This is far better than my last job in the culinary world. click here
---
---
Collaborators
Omer Liran, MD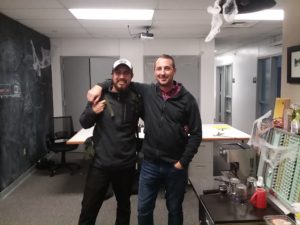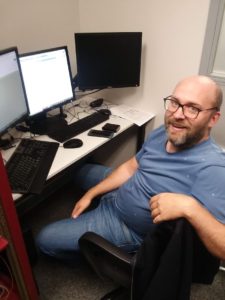 ---
---
Previous Rotating PhD students
Carrisa Cocuzza: Cole Neurocognition Lab
Shira Lupkin: McGinty Lab for Systems Neuroscience and Neuroeconomics
Previous Research Assistants and Interns
Kathryn Biernacki, PhD (now a research fellow at the National Institute of Drug Addiction)
Sally Cole, M.A. (now at KATLAB, Florida State)
Marissa Cortright
Daniel Rynerson, M.A.
Gray Garrard
Pavlina Coleska
Peter Shafeek
Juan Cadavid
Neeta Bauer
Seema Parikh, B.A.
Fernanda Juarez, B.A. 
Martin Hochheimer, B.Sc.